IPB University Won 7 Awards in the 2021 Diktiristek Award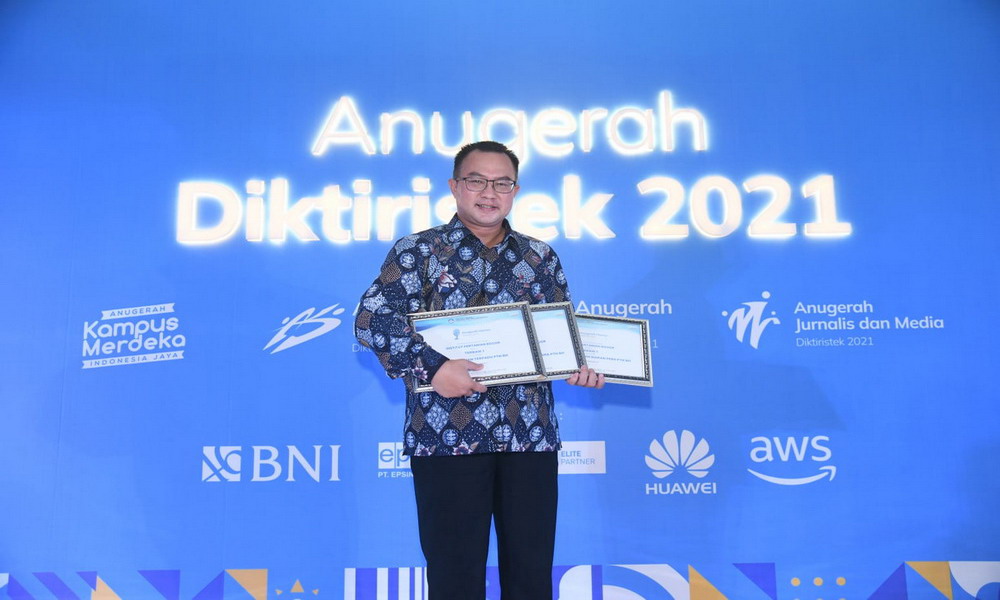 IPB University won 7 awards in the 2021 Diktiristek Award. The awarding of this award was carried out on 13/1/2022 in a hybrid (offline at the Ministry of Education, Culture, Research and Technology) and online which was broadcast through the Directorate General of Diktiristek youtube channel.
The awards achieved by IPB University include, among others, the Higher Education Recipient of the Most Kedai Reka Matching Funds; 1st Best in Management of Cooperation Reports and Facilitation of Legal Entity Higher Education Cooperation; 2nd Best in Cooperation Data Management; 1st Best Legal Entity Higher Education Integrated Service Unit; 1st Best Press Releases and Press Conferences for Legal Entity Colleges; 2nd Best on Legal Entity College Social Media and 1st Winner of Legal Entity College Page.
The Chancellor of IPB University, Prof. Arif Satria, expressed his gratitude to all parties who have supported so that IPB University won these various awards. "This cannot be separated from the good cooperation of all IPB University residents. These various awards are gifts at the beginning of the year for IPB University, they are also an encouragement to continue to work better in welcoming other best works in the future," he said.
In his remarks Prof. Nizam, the Director General of Higher Education (Dirjen Dikti) expressed his appreciation for universities that are very fast in transforming and adapting to technology during the pandemic. "In the future technology will still be present, learning with a hybrid model will continue to be carried out and will continue to be enriched again," he said.
Prof. Nizam added that the 2021 Diktiristek Award event was important to do in strengthening pentahelix collaboration, how the media participated in spreading the spirit of optimism, spreading positive things in the community. The 2021 Diktiristek Award added a new award related to an independent campus and collaboration. (*)
Published Date : 13-Jan-2022
Resource Person : Prof. Arif Satria, Prof. Nizam
Keyword : award for cooperation in the Directorate of Research and Technology, award for Public Relations of Directorate of Research and Technology, award for the independent campus of Directorate of Technology and Higher Education